B&B in Levanto and surroundings
The best way to visit Levanto and its surroundings is to have at your disposal a strategically located facility, attentive to your needs and with comfortable rooms. La Vignana is a B&B a few steps from the Cinque Terre that will welcome you with professionalism and warmth, making your stay unique.
What makes our B&B in Levanto unique?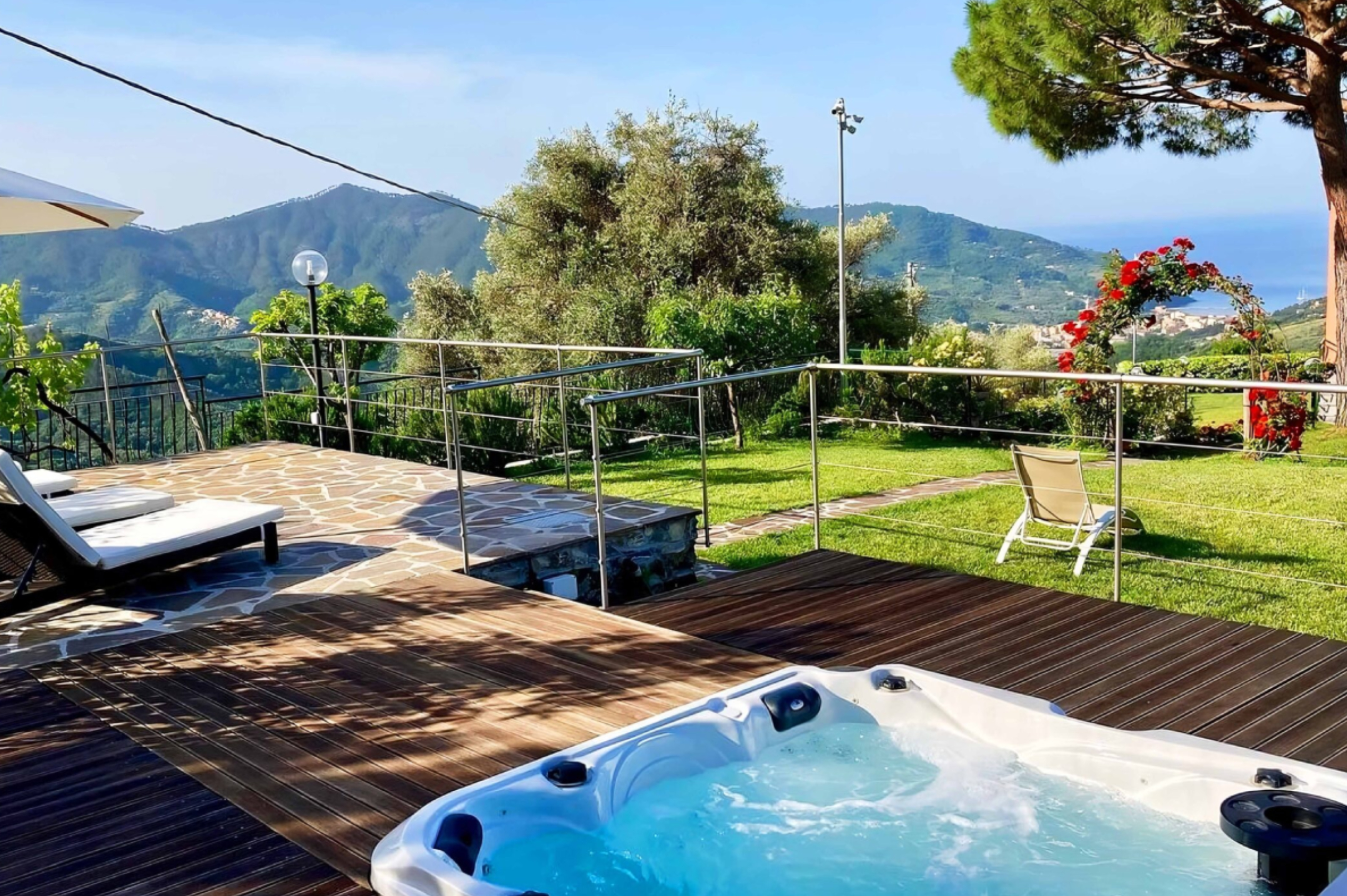 Imagine that you are travelling. and recall that feeling mixed with tiredness and curiosity that emerges at the end of every trip. All you want, as soon as you arrive at your destination, is a peaceful environment that allows you to briefly recharge your batteries, before starting to explore the place you have chosen for your holiday.
Imagine now that you have chosen our B&B in the Cinque Terre and are greeted by a magical atmosphere and a staff characterised by their strong customer care, capable of meeting your needs and pampering you from the very first moment. Once you are in your room, you will appreciate the privacy and tranquillity offered by our structure. Depending on the room you choose, you will have a small relaxation corner, a terrace with a sea view, or a furnished outdoor area where you can relax in total peace. 
Once you have left your room, you can enjoy the many services at your disposal. For example, our garden has a Jacuzzi and a solarium where you can relax in the sun or read a book in the shade of the gazebo. For fun, you can engage in table tennis, table football and billiards challenges.
Things To Do In Cinque Terre
People often think of the 5 Terre as an exceptional natural place, a treasure chest of natural treasures that catches the eye and imprints itself in the memory. What is perhaps less well known is that this area is rich in activities to do with the family, with one's sweetheart, or alone. The list of alternatives at one's disposal is really long and covers all the possible needs of an increasingly vast and heterogeneous public. Here, then, are some ideas to enrich your trip to Levanto and the surrounding area:
Bicycle hire;
Nature, food and wine tours with ebike;
Boat trips also with snorkelling and sunset aperitifs;
Guided and free trekking;
Boat trips to the Cinque Terre and Portovenere;
Exclusive lessons at the Pesto School;
Visits to Chiavari, Portofino, all of eastern Liguria and the Val di Vara;
Shopping at the Brugnato Outlet.
The choices, as you have seen, are numerous. Would you like to sail along the Cinque Terre, Portovenere and Portofino while sipping a drink? The boat trips organised by Rosa dei Venti Boat Tours, which can be booked directly online, allow you to plan your journey in detail, both in terms of time and route.
For cycling enthusiasts, on the other hand, there are many paths winding along the roads leading from Levanto to the 5 Terre. Both free and guided routes are available, with daily tours suitable for all types of cyclists, from amateurs to experts, for young and old alike.
If, on the other hand, you want to hone your culinary skills, you can take a few lessons on the Pesto Course in Levanto. During the lessons you will learn how to use the mortar, wash and dry the basil, and then crush the leaves together with salt, garlic and pine nuts.
Often considered the 'Gateway to the Cinque Terre', Levanto is an excellent starting point for anyone wishing to visit Liguria and northern Tuscany. Let us see what could be a possible travel itinerary starting from our town:
It is easy to reach the Cinque Terre by boat, bicycle, train or even on foot (it is best to avoid the car);
Heading south is La Spezia and Portovenere, as well as numerous other villages set in nature;
Heading north-west is Sestri Levante, overlooking the Baia del Silenzio and the Gulf of Tigullio;
Bonassola and Framura, delightful places of cultural and other interest, can be reached on foot, by bicycle, train or boat going north.
The hinterland, often unjustly left aside, should not be forgotten. It takes very little to find yourself in the Val di Vara, an enchanted landscape where the land shapes habits and needs. The houses become sturdier and the roofs thicker, so as to better retain the heat and fight the snow. The terraces cultivated with olive trees and vines, typical of the coast, here give way to pastures and the cultivation of potatoes, beans and other legumes. It only takes a few minutes by car to visit these fascinating locations.
From Levanto it is possible to visit some of the most important cities in central and northern Italy. Just take the train to Genoa and perhaps visit its aquarium, one of the largest in Europe. Going south, on the other hand, you can admire Pisa, home to some of the world's most famous monuments and architecture. And then there is Lucca, which over time has become an increasingly popular attraction for young people thanks to its events dedicated to comics and pop culture. Finally, lovers of historical finds can go as far as Pontremoli, in the heart of Lunigiana, home to an important archaeological museum.
Heading north up the coast, it is possible to reach Rapallo and Chiavari, Santa Margherita Ligure and Portofino.
The 5 Lands are not only a top tourist destination, but also the centre of a journey that can lead north to Genoa, or south to Pisa and beyond. For this reason, when staying in this place, it is important to choose a facility that is positioned in an optimal location such as La Vignana.
Those looking for a B&B in Levanto in a quiet area but convenient for reaching the station and the Cinque Terre can rely on La Vignana. Our facility allows you to reach the nearest railway junction in approx:
10 minutes by car;
15 minutes by bicycle;
25 minutes by bus.
On foot, however, the journey time is longer. However, this is an ideal compromise, because our location gives you the opportunity to enjoy all the tranquillity of the Ligurian hinterland, while remaining a short distance from the heart of the Cinque Terre.
Overlooking the Gulf of Levanto, B&B La Vignana welcomes its guests in an enchanted atmosphere. Ideal for those seeking tranquillity and privacy, our property offers relaxing stays with new rooms equipped with every comfort and an abundant breakfast. You can sunbathe in the panoramic garden with a Jacuzzi while planning your next excursion. In fact, our bed and breakfast is located at the beginning of the path leading to the Alta Via, an ideal place for trekking and cycling enthusiasts.

Located less than 5 km from Levanto train station, the B&B La Vignana is waiting for you to experience a tailor-made stay. A place far from the hustle and bustle of the centre but, at the same time, a convenient starting point for visiting the Cinque Terre, the Ligurian Riviera, and the entire area between Genoa and Pisa.
Reaching the centre of Levanto you can also use the train station to easily reach the Cinque Terre and other localities in the area, or rent bicycles, enjoy the beautiful beaches, or have fun with surfing and scuba diving lessons.
For any need, our staff will be at your complete disposal to ensure you have a memorable stay.